Ad blocker interference detected!
Wikia is a free-to-use site that makes money from advertising. We have a modified experience for viewers using ad blockers

Wikia is not accessible if you've made further modifications. Remove the custom ad blocker rule(s) and the page will load as expected.
Welcome to AliceSoftWiki,
an unofficial fanwiki for Alice Soft that anyone can edit!
We are currently editing over 1,930 articles, and you can help!
About this wiki | New pages | Wiki FAQ | Help pages | Links
---
Alice Soft is an eroge developer, one of the oldest in existence.
The company began in 1989 making games for the PC88, MSX and PC98.
These included a Visual Novel known as Intruder and the very first Rance.
Many of AliceSoft's games tend to be either Eastern RPGs, Dating Sims or Turn-Based Strategy Games
and have a penchant for sly, subtle jabs at elements of anime and Japanese pop culture in general.
Their more beloved titles fall squarely in the Explicit Content category
and have high quality soundtracks courtesy of their in-house composers.

---
0
AliceSoftWiki
Join the Chat>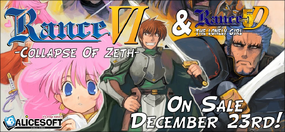 Rance VI and 5D are now available for pre-order.
10% discount until December 23rd.
New Alicesoft Calendar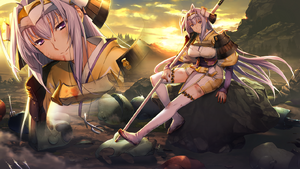 Tokugawa Sen is the princess of the original Tokugawa House that ruled Mikawa. Because she greatly enjoyed fighting, she was nicknamed "Princess Battle" ("戦姫", pronounced as "senhime", which is the same as "千姫" or "Princess Sen").
(
Read more.
)  
2016/12/02
2016/09/20
2016/08/13
2016/06/24
2016/03/29
2016/03/01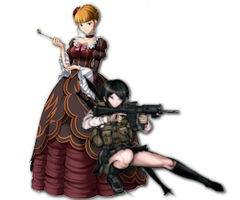 Visual Novel Games
Go to these sites for info or for help with your own wiki!
Ace Attorney • AliceSoft • Dangan Ronpa • Date A Live • Hatoful Boyfriend • Saya no Uta • Steins;Gate • TYPE-MOON • Umineko no Naku Koro ni
Want your community included? See how!