| | |
| --- | --- |
| Popular Games | Recently Released |
2015/04/24
2015/01/31
2015/01/21
2014/12/26
Rance 01: Hikari o Motomete The Animation (Episode 1) released!
2014/10/14
2014/09/12
2014/08/26
Rance 03, remake of Rance 3, announced!
2014/07/18
2014/07/15
The Rance series and Alicesoft are officially 25 years old. AliceSoft's first game since they rebranded from Championsoft was Rance: Hikari no Motomete and was released On July 15th 1989!
2014/06/27
To write a new article, just enter the article title in one of the the boxes below.
Not sure where to start?
Adding content
Join the Chat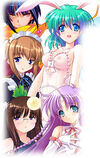 Gal Monsters appear in several Alicesoft games, making a cute and sexy addition to the enemies you can battle. There are dozens of types, the most well-known likely being the bunny-girl Kyan Kyan. In many of the games, most of the Gal Monsters you encounter can be captured, either for the main character to H or to sell for money.(Read more.)
Gaming Wikis

We apologize, database maintenance in progress. Editing is locked while we update our system.