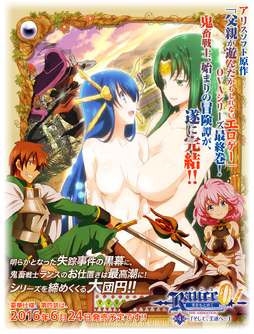 And then, To the Royal Path!! (そして、王道へ…, Soshite, Ōdō e…) is the 4th and final episode of the Rance 01 OVA.
It first aired on June 24th, 2016. The episode was the finale of Rance's first adventure in his search for the missing noble girl Hikari Mi Blanc in the hentai adaptation of the 2013 remake Rance 01.
The climax of the incident of the mysterious disappearance of Hikari in the very castle of the Leazas Capital. Rance struggles against his most formidable opponent yet.
Previous Episode: Rance, Cut!!
(to be completed)
Characters
Edit
During the credits scene, many characters from the Rance Series make short cameo appearances: