Battleship Nagato
戦艦長門
senkannagato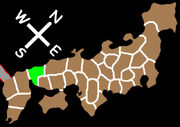 Battleship Nagato is one of the provinces of JAPAN. It is held by the Mori House.
Battleship Nagato is adjacent to Cairo, Red Helmet, and Izumo.
The area of Battleship Nagato corresponds to the Nagato Province (長門国), Suo Province (周防国), and much of the Iwami Province (石見国) of real-world warring states Japan. The name is a reference of a WWII Japanese battleship, which was itself named after the Nagato Province and was the flagship of Admiral Yamamoto Isoroku (whom Yamamoto 56 references) at one point.
Ad blocker interference detected!
Wikia is a free-to-use site that makes money from advertising. We have a modified experience for viewers using ad blockers

Wikia is not accessible if you've made further modifications. Remove the custom ad blocker rule(s) and the page will load as expected.