The Home Base
Edit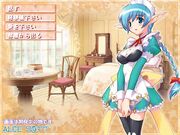 The home base screen is where you start your game. The tabs on the left from top to bottom are:

Go to the Dungeon
Conversation with the girls
Experience Share
Item
Class Change
Replay Mode
Bobo Video (Appears after you clear the 1st dungeon, this allows you to catch monster girls in the Gunagan (2nd) dungeon)

End Game
Character Stats
Edit
LV: Level
Exp: Current Experience / Experience needed for next level
Health: Current health / Max Health

From top left to bottom left:
Attack
Physical Defense
Magic
Magic Defense
From top right to bottom right:
Accuracy
Evasion
Movement
Range
The Percentages:
Critical: Chance of using a critical attack
Strike: Chance of counter attacking
Re-Conduct: Chance of getting an additional turn
Item Find: Chance of finding an item after killing an opponent.
The Dungeon
Edit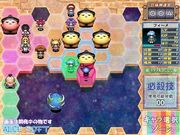 Game play alternates between your turn and the enemy turn.
The layout of the dungeon and the enemies on each floor is random. Going back upstairs does not necessarily mean you will return to the last stage.
Dungeon Menu
Edit
If you move your cursor over to the right side, you can see the dungeon menu. The buttons are as follows:

Options
Quick Save- saves your progress in the dungeon and closes the game.
Map- View the map of the floor
Item- View available items. You can not equip, but you can throw away.
End Turn- After your done moving and attacking, select this to end your turn.
Enemy level is determined by the floor number:
Giant God Dungeon: Enemy level equals floor number
Gunagan Dungeon: Enemy level equals floor number + 20
Moving and Attacking
Edit
During your turn, you can move each character as many hexes as their move stat. If you wish to undo a move, move the mouse over the character and click the blue hex that appears. To move the map to a particular character, right click and click on the character you want to go to. Matis can help a character move farther by using his character summon. Click Matis and select the top green box. The girl you select will be teleported to a hex next to Matis. This is also handy for grouping your scattered characters.
Move one of your characters next to an enemy (or nearby in the case of the Magic class) and the enemy will be surrounded by a red hex. In the upper left-hand corner of the red hex will be one of three symbols:
Red X - Your attack will not kill the enemy (does not apply to random critical attacks)
Yellow Triange - Your attack may kill the enemy.
Blue Circle- Your attack will almost certainly kill the enemy.
Damage is calculated as the difference between the attack power of the attack (Attack or Magic Power) minus the appropriate defense (Defense or Magic Defense).
When attacked, your character may counterattack.
Every character has a special attack, which is powered by the blue potion item. This attack will hit every enemy on the screen. You can use one attack per blue potion the character has equipped (the item is destroyed when you use the attack). To use the special attack, select the character and select the gray box on the sidebar.
Monster Girls
Edit
Monster Girls are the only mobs Matis(human) can attack in the game. If you capture(kill) the monster girls with Matis, Bobo will reward you with an Ero video for every 3 same girl you caught(killed).
Monster Girls appear randomly in the Gunagan dungeon. You can catch them only by killing them using Matis. They will only appear in newly generated floor (returning to home base will not reset this unless you delete the saved floor files). If you kill a monster girl using one of your maids by mistake, don't worry, they will appear again randomly in a new floor. With the 999 floors in Gunagan dungeon, it's not hard to complete them all.
After Gunagan dungeon Floor 30, Matis regain his "God of Love" power(or goddess, by the story). But as the story goes, he has been turned into a goddess instead of a god so he can attack males, he won't be able to attack any females in goddess mode so he can't capture the Monster Girls until Floor 40 is cleared due to his "women" appearance.
Leveling Up
Edit
In addition to a general stat increase, you can invest a point in one of five categories (from left to right): HP, Attack, Defense, Magic, Magic Defense. Every point gives a bonus percentage to the appropriate stat ((base + added stats from items) x Bonus percentage).
Death and Escape
Edit
You can explore the dungeon as long as Matis still has HP. If any of the girls run out of HP, they will escape from the dungeon and wait for you at the Home Base. Occasionally, you can find items in the dungeon that will allow you to revive a defeated girl.
To escape the dungeon and return to Home Base, click Matis. Select the second green box to get teleported out of the dungeon. When you return to the dungeon, you will begin at the level you teleported from.
If Matis looses all his HP, you are automatically booted out of the dungeon (No info on whether there is a penalty for this).
Floors of Note(Quick Walkthrough)
Edit
Giant God Dungeon
Floor 7: You will meet the "Women Murder" blocking your way here. Return to homebase and after the event you will get a new item "Women murder killer" (red sword). Put the sword in one of your character and use that character to kill the "Women murder" to clear the path.
Edit
Floor 8: Have your characters use the stone statues in numeric order from 5 - 1 to clear the path.
Edit
Floor 12: Have your characters step(and stay) on the red floor levers to open the paths.
Edit
Floor 14: Have the character of the same colour to step on the coloured block to warp. Warp all 7 and have them step on the red floor lever to open the path for Matis.
Edit
Floor 16: Talk to the machine near the Haniwa path. Return to base and back to the dungeon after the event. Matis should be able to pass thru the orange floor to the switch.
Edit
Floor 18: Kill all 4 OctoKings(white alien-like monsters) to open the path.
Edit
Floor 20: Boss Fight. First ending. Clearing this floor gets you the 1st Matis CG.
Edit
Gunagan Dungeon (Monster Girls started to appear in this dungeon)
Floor 10: Event
Edit
Floor 20: LUNA Medal found after you save Luna in this dungeon.
Edit
Floor 30: Event
Edit
Floor 40: DALK Medal found after you save Dalk in this dungeon. Clearing this floor gets you the 2nd(ending) and 3rd Matis CG.
Edit
Floor 100: Gunagan the dungeon Boss is waiting for you on this floor. He's around level 120 and can hit you from anywhere, so be prepared. Clearing this floor will get you the 4th Matis CG.
Edit
Floor 999: This is the deepest you can go in the dungeon. If you're patient enough to go this far, you can score the title of "DALK Master" after defeating ALL the "Mad King" bosses. You will also get to see the 5th and final Matis game clear CG here (but it won't show up in the replay mode)
Edit
Conversation with the girls
Edit
Choosing this tab lets you pick one of the girls to "talk" to. This is how you find ero scenes in game. Every now and then, you will see a conversation between two of them.
The tabs are: Talk, Ero (when they've been triggered), and Leave.
Normally, Matis can't attack enemies(more precisely, he can't attack Male enemies due to the story setting) and, therefore, can't gain experience from fighting(accept from being hit or attacking female enemies). So the girls have to share their experience with him. Going to this screen will let you select a girl to take experience from.
Selecting a girl will remove all current experience points she has. Half of those points will then be given to Matis. Example: if you chose Elesia, who was level 5 with 40/50 exp, Matis will get 20 exp points.
After Gunagan dungeon 30th Floor, Matis regain his "God of Love". His stats will skyrocket and he will be able to attack any enemy (F30-F40 he can't attack female enemies due to his women appearance). Once you reach this point, Experience share has been disabled and you can't share exp as long as Matis is a goddess.
See Item section
God Medals
Edit
God medals are required for the 4th and final job change. Your maids will be able to job change to god with these. ;)
TJOE Medal: After throwing 100 items away, an event will happen in home base and Tiger-Joe the god will give you the medal after the conversation. (This is the only god medal available before Gunagan Dungeon)
ALET Medal: After "Ending your turns" for 200 times in Gunagan Dungeon. Return to homebase and Arietta the goddess will be waiting for you there. You will get the medal after the conversation.
LUNA Medal: After saving Luna in Gunagan dungeon floor 20, you will be rewarded with the Luna medal.
DALK Medal: Talk to the fallen Dalk after you cleared Gunagan dungeon floor 40, an event will happen and you will be rewarded with Dalk medal after the conversation.
Class Change
Edit
See Classes section
Replay Mode
Edit
This is where you can replay any scenes (ero and non) you have seen so far.
Unlimited Item Chest/Monster Girls (cheat)
Edit
You can "reset" the dungeon floors by deleting the floor files in the [Floor] folder. This will restore all the dungeon's chests/barrels/monster girls.
Simply clear the floor, return to homebase, exit the game and delete the current floor file. Return to the game and when you enter the dungeon from homebase, it's a brand new floor with un-opened chests/barrels again. This will also allows the Monster girls to spawn over and over and over again on the same floor.
This is useful to gather the class change items or when trying to complete the Monster girls CG without going deeper into the dungeon.
Ad blocker interference detected!
Wikia is a free-to-use site that makes money from advertising. We have a modified experience for viewers using ad blockers

Wikia is not accessible if you've made further modifications. Remove the custom ad blocker rule(s) and the page will load as expected.