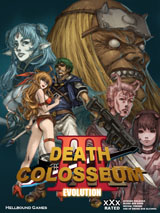 Death Colosseum III Evolution is the North American adaptation of  Toushin Toshi 3 . It is going to be produced by a company called Hellbound (ヘルバウンド社), and will cost 15,000 Yen (approximately 150 USD).
It's release date is slated to be April 2009.
There is no official connection acknowledged between Death Colosseum III Evolution and Dragonball Evolution
Ad blocker interference detected!
Wikia is a free-to-use site that makes money from advertising. We have a modified experience for viewers using ad blockers

Wikia is not accessible if you've made further modifications. Remove the custom ad blocker rule(s) and the page will load as expected.