Demonic Blood Soul
Talk

0
1,231pages on
this wiki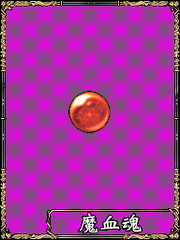 The Demonic Blood Soul, or Makekkon, is what a
Dark Lord
becomes after being killed.
It is a small red pearl that glistens and varies in size. The orb itself contains all the raw data of the Dark Lord, including their name, level cap, skills and personality.

It is in fact a condensed form of the Demon King blood that resides within a Dark Lord, and acts as a last ditch effort of immortality, it cannot be broken by any weapon, even Nikkou and Chaos.

As long as a Blood Soul exists, the Dark Lord can revive. Often Apostles of fallen Dark Lords will preserve the Blood Soul and seek out a method of revival.

If a mortal consumes a Blood Soul, then one of two things will happen. The Human will either overwrite the Blood Soul and become a new Dark Lord, destroying the previous in the process, or the Dark Lord within the Blood Soul will overwrite the body of the human that consumed him and then resurrect. The outcome depends on the mental fortitude of whoever consumed the Blood Soul.

The only method of destroying the Blood Soul is to get the Demon King to erase it from existence entirely. The Demon King can use powerful magic to format the Blood Soul, wiping it of all personality information, after that the Blood Soul ceases to exist entirely.