Gele
Talk

0
1,231pages on
this wiki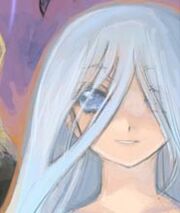 Gele was the fifth
Demon King
and the first "Eternal" Demon King.
Chosen by Nighcisa, Gele went on to become the most savagely brutal Demon King of all time.
Appearance
Edit
Fair skinned, with soft hair and pretty blue eyes, Gele was a girl who could be called faultless, intelligent, incorruptible and beautiful.

Unfortunately, these virtues brought spite and jealousy from others.

Before becoming the Demon King she had already lost her mind. While she could still think intelligently, she was no longer rational and vented all of her worldly hatred upon mankind.
Abilities
Edit
Cunning and brutal, Gele subjugated mankind to a life of slavery with several well-laid plans.

Her knowledge of the Hero System meant that she knew how to foil any chance humanity had against her.
Personal History
Edit
NC0960 - Gele is kidnapped, raped and torured by people that hated her pure virtues. Her limbs are severed and she's left to die. Nighcisa happens to come upon her, and gives her his blood. Because her last memories before becoming a Demon King were that of the cruel treatment she suffered at the hands of her attackers, her world-view was warped into an intense hatred for humans.

GL0321 - Gele declares open season on humanity, and orders all the Dark Lords to hunt down and massacre humans at their leisure. After destroying all the unified kingdoms of mankind, she enslaved humanity, forcing them to work and breed until they died of exhaustion. This was a plan to counteract the Hero System, as humanity needed to be dying for the Hero to gain power, instead she kept the population at an all-time high.

GL???? - Gele makes Medusa, Ray, Jeek, and Noce into Dark Lords.

GL0533 - The Eternal Heroes enter the ancient ruins, they're never seen again.

GL???? - Gi, wielder of the Demonic Sword Chaos, tries to kill Gele. Midway through the battle, his split personality takes over and allows Gele to transorm him into a Dark Lord. Gele designates him the Supreme Dark Lord and her lover.

GL???? - Gele wishes to extend her life beyond the 1000 year limit, she reads books by Ssulal and learns how to contact Planner. Planner grants her wish for immortality and Gele becomes the Eternal Demon King.

GL???? - 1st Class God La Vaswald is destroyed by Roven-Pan and divided into two Dark Lords (La Hawzel and La Saizel) by Planner. They pledge their service to Gele.

GL1000 - The Dark Lord war. Dark Lord Gi fights against Demon King Gele upon learning that she has obtained immortality.

GL1004 - Gi seals Gele away in another dimension using the Demonic Sword Chaos, Gele's era is over. 1017 years later, Dark Lord Noce unseals Gele. Her revival is stopped by Rance, who fucks her before sealing her in the dark void again.