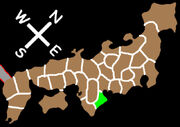 Leader - Hara Shouji
Principle - Don't upset Princess Aki.
Military strength - 1/5 (weakening due to lack of funding, mainly archers)
The Hara House (原家) pays a lot of attention to its people's welfare. Thus, even though it is a weak country, the people are still happy. However, ever since the arrival of Princess Aki as the wife of its leader; tax rates have been going up significantly, causing major resentment. As the princess is the sister of Ashikaga Choushin of the Ashikaga House, the Hara House will come to their aid in times of war.
The Hara House rules over Ise.
Appears in: Sengoku Rance
Key Characters
Edit
Ad blocker interference detected!
Wikia is a free-to-use site that makes money from advertising. We have a modified experience for viewers using ad blockers

Wikia is not accessible if you've made further modifications. Remove the custom ad blocker rule(s) and the page will load as expected.