---

This article is a stub. You can help the Alicesoft Wiki by expanding it.
---
Ren Idagawa
Edit
"The one to conquer the country...
will be me, Idagawa Ren."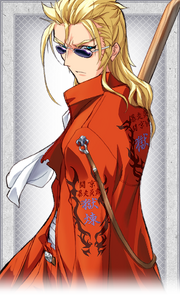 He's the executive of 750 School in Tokyo, as well as the Gang Leader. He's the head of the largest biker gang in Kanto, Gokuren. He has the same goal as Rouga, conquering the nation.

Battle quote - "I don't spare any who foolishly block my way..."

Trivia:
Unlike all bosses who never move to raid attack to conquer, he is only one out of all bosses carries out the Raid Attack
He was guilty about the past which he deeply regrets what he did and what happened to Kyouko's husband and he is dead (Unknown death cause)
He asked Kyouko to kill him if it will relieve some of her burden without fighting back regardless of his goals