Inukai
Talk

0
1,235pages on
this wiki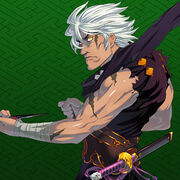 He is the young leader of the ninja house of Iga. He is driven by the ideals of protecting the rights and social status of ninjas throughout JAPAN.
He is good at using ninjitsu to control animals, especially wanwans.
The first kanji of his name, "inu", literally means "dog". The second kanji of his name, "kai", literally stands for "owning and taking care of (pets)".