Kayblis
Talk

0
1,231pages on
this wiki
The oldest and cruellest Dark Lord, Kayblis is a remnant of a long forgotten age, born near the dawn of the Planner Scenario, he has served every Demon King since Kkulf Kkulf.
He is one of the four Elite Dark Lords, one of the highest titles in the Monster Realm.
His age is between 4205~6219 and his Height/Weight is 595cm/1010kg.
Personal History
Edit
KuKu0200 - Round One Kayblis, a small, circular and vunerable squirrel-like "Risu" is taken by Kkulf Kkulf and forced to drink blood. Through the transformation, he becomes more anthromorphic, he pledges alliegance to Kkulf Kkulf and begins to train harder. He is bullied by other Dark Lords for being tiny and weak. From this point, he realizes that he's still too vulnerable, and begins to modify his body through unholy methods over the course of several centuries.
GI0813 - The "Kayblis Dark" occurs, he ravages Zeth for 3 months, leaving a scarce population and even scarcer supplies. Now the name Kayblis strikes deep fear into the people of Zeth.
GI0981 - Kayblis and Dark Lord Ray have a disagreement, leading to a battle. Kayblis savagely wounds Ray with minimal effort and leaves him to die.
LP0001 - Kayblis learns that Gi has made Miki his heir, he is outraged by this, decides that enough is enough. He feels that it's his turn to be Demon King, he's lived through countless centuries and three Protagonist Races. He gathers all Dark Lords that agree with him and creates the Kayblis Faction, a group of Dark Lords that have the purpose of killing Miki and letting Kabylis become the Demon King, opposing the orders and wishes of Gi and his daughter, Hornet.
Personality
Edit
He is incredibly violent, cruel and destructive, so savagely violent that Dark Lord Xavier was genuinely unnerved when around him. He is a very cruel being and enjoys both torturing and killing them for pleasure, a hobby he shares with Dark Lord Medusa, who consider Kayblis a good friend.
He's been trying to introduce a strength based caste system into the Dark Lord society, having the strongest Dark Lord (him) at the very top of the ladder and next in line to be Demon King.

He is ambitious, he desires to murder Miki and all those that support her, so he can crown himself as the Demon King and have absolute control over the continent.

He's in love with Kamilla, a fellow Elite Dark Lord and former Dragon. He gets very shy around her, and when she looks at him he breaks into a sweat, blushes and begins uncontrollably chittering; "K-K-Kamilla..." Kamilla does not return these feelings and actually despises him.
Appearance
Edit
Originally a weak 60cm tall Risu, he was bullied by Dark Lords of a higher status than him for being small and vulnerable. Because of this, he modified his body over the course of several centuries, becoming larger, growing more limbs, embedding armored plates into his flesh and other such things.

He often appears to be accompanied by a beautiful woman, but that is in fact his tail. Both Kayblis and his tail are heard laughing in the Kichikuou Rance song "Ontology".

Eventually he became a tall, hideous beast and no being, mortal or Dark Lord dared speak against him.

His evolved appendage count is at 6 arms, 8 penises and a female body growing from his tail.
Abilities
Edit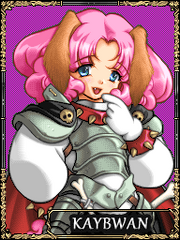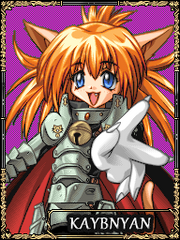 He is the strongest Dark Lord, and has yet to be matched by anyone. He generates an aura of maximum fear, if a normal human apporached or even saw him they'd feel nausea, immobilization and in worse cases blindness or death.
He commands two apostles, Kaybnyan and Kaybwan, they are a cat-girl and a dog-girl respectively. They are not quite so fearsome, and often mess up any orders Kayblis gives them. Kayblis is always frustrated by their incompetency.
Though Kayblis is currently the strongest of all the Dark Lords, the Supreme Dark Lord, Hornet, has the potential to become much stronger then he, on account of her higher level cap.