#
Name
Economy
Defense
Field size
Pillage
Special Action
L1
Leazas castle
20
10
180
Safety Bonsai
L2
Wes
24
4
300
Special Room Girl
L3
Ponara
11
2
200
Special Room Girl
L4
Prettyria
15
8
170
Sweet or Special Room Girl
L5
Alan (Aran)
14
7
200
Arkanoid Shell
L6
Scale
6
9
210
Special Room Girl
L7
North
10
5
220
Knowledge of Kapala Lodz or Kuriripu
L8
Maunes
5
9
210
Cat Bread or Special Room Girl
L9
Rich (Ricchi)
16
2
310
Special Room Girl
Mary's House (Must Levy once to show.)
LA
Poor (Pua)
4
2
430
Cat bread or Special Room Girl
LB
Fort Parapara
2
10
100
Kuriripu
| # | Name | Floors | Goodies |
| --- | --- | --- | --- |
| D1 | Bandit cave | 0 | British |
| D2 | Monster cave | 14 | Big Boss Pot |
| D3 | Palace Island | 38 | Ashi Juliette |
Capital constructions
Edit
| Name | Time | Cost |
| --- | --- | --- |
| Hospital | 3 Months | 4000 |
| Girl Officer School | 4 Months | 6000 |
| NEW Library | 2 Months | 4000 |
| SM Tower | 3 Months | 8000 |
| Maria Research Center | 2 Months | 9800 |
| Magic Research Building | 3 Months | 9000 |
Rebellion
Edit
| # | Name | Economy | Defense | Field size | Pillage |
| --- | --- | --- | --- | --- | --- |
| R1 | Oaks (Orcs) | 12 | 4 | 232 | Information about Kapala Lodz or Special Room Girl |
| R2 | Ys (Eas) | 8 | 2 | 300 | Special Room Girl |
| R3 | Baranchi | 18 | 2 | 400 | Money Only |
| R4 | South | 13 | 8 | 250 | Mokomoko Takenaka |
| R5 | Oku (Oc) | 6 | 5 | 220 | Ultimate Sweet Cat Bread |
Free Cities Alliance
Edit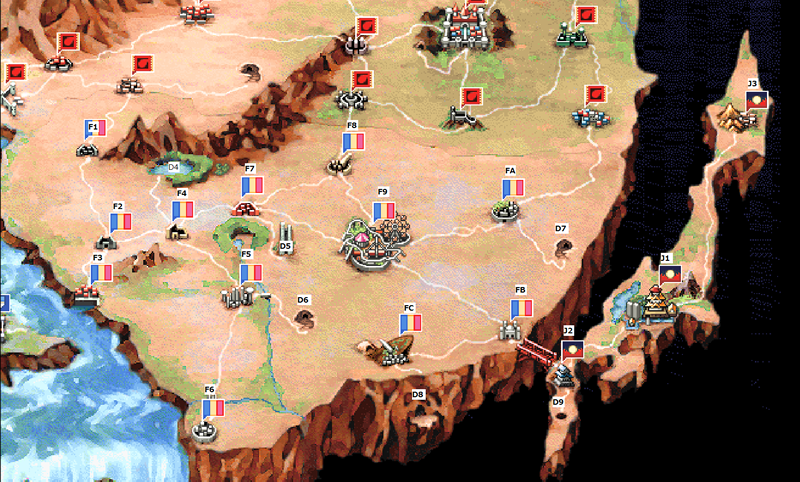 #
Name
Economy
Defense
Field size
Pillage
Special Actions
F1
Rock Earth
10
4
320
Special Room Girl
DX Association
F2
Ice
11
3
410
Special Room Girl
Rance's House
F3
Diphtheria (Shifteria)
15
1
130
Money Only
F4
Lazeal
9
4
250
Gandhi event (Levy)
Aluminium Axe (Levy)
F5
Kathtom
6
9
150
F6
Mars
8
4
250
F7
Red
10
2
350
Gandhi event (Levy)
Cell's Church
F8
Zeo (The O)
15
2
400
Gandhi event (Levy)
Hanny Building
F9
M Land
7
1
300
FA
Hanna
9
3
220
"Kuriripu" Supreme Sweet
Shinoda's Estate
FB
Portugal
13
6
220
Special Room Girl
FC
Toushin Toshi
11
3
320
Shangri-La
0
3
420
Housenurse's room (After sex with Shariela)
#
Name
Field Size
Floors
Goodies
D4
Tiki Lake (Haniwa Temple)
600
66F
No treasure, only useful for Haniwa King on the bottom floor if you have Julia.

The Hanny King actually also provides two strengthening services for any general with a 25% chance, if you select "Talk" 3 times.

D5
Hyper Building
201
Wisdom Ring (201F)
D6
Dangerous Hole
50
Fog Card on 10F, Happiness Ring on 50F
D7
Uncurse Dungeon
28
Fountain of Growth (27F w/ Merim) Uncurse spring (28F)
D8
Peach Paradise
N/A
N/A
Exclusive Nurse, Charge Horn, must pay an entrance fee of 10k gold. No additional prizes for going more than once.
AL & JAPAN
Edit
#
Name
Economy
Defense
Field size
Goodies
Temple AL
30
6
200
J1
Oosaka
10
10
400
Levy for Makoto (Harem)
J2
Nagasaki
6
1
300
J3
Sado
30
6
180
| # | Name | Field size | Floors | Goodies |
| --- | --- | --- | --- | --- |
| D9 | Orochi's pit | 400 | 38F | Orgasmic Men (20F), Orochi fight (38F) only when Fuuka is about to enter the pit |
East Helman
Edit
#
Name
Econ
Def
Field Size
Levi
E1
ボルゴZ
Volgo Z
3
3
420
Cat Bread
E2
ログB
Log B
4
5
620
E3
ログA
Log A
2
6
320
E4
ウラジオストック
Vladivostok
1
4
1220
Merci
E5
ゴーラク
Golak
4
3
660
E6
アークグラード
Arch Glad
5
1
1000
E7
古代の遺跡
Ancient Ruins
1
7
320
Special Room Girl
E8
ローゼスグラード
Roses Glad
4
6
520
E9
シベリア
Shiberia
1
5
420
| # | Name | Field size | Floors | Goodies |
| --- | --- | --- | --- | --- |
| | Ancient Ruins (Dungeon) | 600 | 1000f | Doping Drug (20F), Bird Corpse (50F), joke CG on 1000F after beating Gunagan |
| | Summit Mouth | 400 | 30F | Aztec Armor (20F), La Seizal (30F) |
South Helman
Edit
#
Name
Field size
Floors
Goodies
Natural Foe Dungeon
150
25F
Okayu Fever (10F) for Aya's CG and unhappy ending. Must see beginning of turn event with Aya before the purple Okayu fever will appear.

Hawaiin Sword (25F)
Central Helman
Edit
North Helman
Edit
#
Name
Field size
Floors
Goodies
Ho-Raga's Tower
N/A
N/A
Ho-Raga's events (only certain male characters may enter the tower) Warning : Exploring without the Snow Charm will cause some soldiers from the exploring unit to die of frostbite.
Snow Dungeon
 ???
12F
Snow Charm (12F) Warning : Exploring without the Snow Charm will cause some soldiers from the exploring unit to die of frostbite.
Giant Battleship
500
20F
Needs the Giant Battleship key obtained by levying Path. Warning : Exploring without the Snow Charm will cause some soldiers from the exploring unit to die of frostbite.

On the bottom floor, you will be able to press a button before being ejected from the battleship. These buttons only work once.

Button A : Commander attack and def +1 Button B : Commander attack +1 Button C : Commander hp +2 Button D : Kaiju A Button E : Kaiju B
West Helman
Edit
North Helman
Edit
| # | Name | Field size | Floors | Goodies |
| --- | --- | --- | --- | --- |
| | Stone-Cutter Dungeon | 1000 | 27F | Evil Statue of strength (27F) |
| # | Name | Field Size | Floor | Goodies |
| --- | --- | --- | --- | --- |
| | Holy Gal's Dungeon | 500 | 76 | Tange Dog (76F) |
Monster Realm
Edit
Monster Realm

| # | Name | Field size | Floors | Goodies |
| --- | --- | --- | --- | --- |
| | Dungeon of Lies | 1000 | 27F | Crystal Ring (25F) |
| | Rex's Dungeon | 1000 | 50F | Monster general (50F) for blue house password |
| | Mos's Dungeon | 1000 | 50F | Vevetar Mutant (5F), Monster general (50F) for red house password |
| | Maid Graveyard | 1000 | 50F | Jugon (16F), nothing on 50F |
Monster Cave
Edit
Battle field size: 80
Floors: 14
Treasures: Big Boss Pot (14F)
Forced battles:
3F, Sergent Hanny
5F, Mada
Hyper Building
Edit
Field size: 600
Floores: 201
Treasures: Ring of Wisdom (201F)
Uncurse Dungeon
Edit
Field size: 400
Floors: 28
Forced battles: Hau' Kyu' (10F)
Enemies: Sergent Hanny
Rising Dragon Mountain
Edit
Field size:
Floors:30
Force battles: every 5 floors vs dragon
Note: use ranged units