"In any case, now you have to face me, the Iron Wall of Kongoumaru"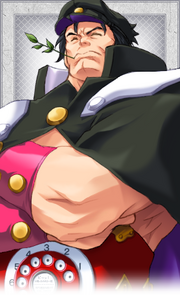 The head supporter, as well as Gang Leader of Tokyo's Sensouji School. His fighting power is so great he's called "the Iron Wall of Kongoumaru". Except, he is extremely weak when it comes to his sister Aya. His buckle is a mobile phone.
Ad blocker interference detected!
Wikia is a free-to-use site that makes money from advertising. We have a modified experience for viewers using ad blockers

Wikia is not accessible if you've made further modifications. Remove the custom ad blocker rule(s) and the page will load as expected.