Leazas
Talk

0
1,231pages on
this wiki
General Info
Edit
Founded 486 years prior to the start of the series, The Kingdom of
Leazas
is a prosperous nation on the eastern side of the Rance world continent, with a population of roughly 50 million. It was founded in
GI
0534 in a rebellous split off from the
Helman
Republic.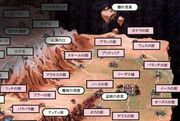 In the year GI0534, Helman was embroiled in a civil war. The leader of the Rebellion, Gross Leazas, wanted to make his own country where the people would not be abused and oppressed in favor of military funding. Leaving his King and country behind, he conquered land to the east and founded the independent nation of Leazas.
State of the Land
Edit
Leazas boasts the most fetile and luscious farmland on the entire continent, and it's also a relatively safe place to live in.
Unlike Zeth it does not border the Monster Territory, and unlike Helman, it's not near frozen wasteland with poverty-stricken citizens. It is without a doubt the safest kingdom on the continent, and the most rich in food and trade zones.
Defended by a mountain range that blocks Helman, and a fort blocking Zeth, the country is well suited for safety. Aside from the infrequent raids from the Helman Army, Leazas never sees any violent conflict within the country limit.
It's ruled by a Monarchy, and the child of the Monarch becomes the next leader, the current leader is Queen Lia Parapara Leazas after she forced her father to retire early, she's a beloved leader and not a single bad word is said about her (because she has every naysayer assassinated).
Government
Edit
In the June of LP0002, Lia Parapara Leazas took the throne and became Queen of Leazas. Her First Advisor and Chief of Maids, Maris Amaryllis manages the running of the government and the military.
While Leazas can't match the budget of the Helman army, or the magical offense of the Zeth militia, it makes up for it in having specific elite groups working in unison. The Leazas army is separated into 6 corps:
Additionally, in Kichikuou Rance, there is a Green Force, under the direct command of Rance.