"
Everyone...Don't let your guard down!
"

—Leila, in battle.
Unit Description
Edit
A swordswoman and Leazas's second strongest person, after Rick.
The Royal Guard is made up entirely of strong, beautiful women gathered from all over Leazas. It's undoubtedly the most beautiful unit on the continent.
Has no special skills.
Recruitment
Edit
Available when Rance becomes the King and is granted leadership over the Leazas Army.
Required for:

Recruiting Julia Lindum.
Getting "Royal Guard Girls" to join the Harem.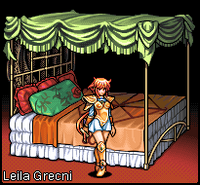 "A strong, beautiful, ideal woman that is the captain of the Royal Guard.
She's also dependable, since she's older than me. I should make her "guard" me in bed too, not just on the battlefield."
The first time Leila is called from the harem, she will refuse to have sex with Rance, but you will obtain the option to call her guards in the harem. After you do so and talk to her, Rance can have non-penetrative sex with her and get a CG.
After Leila begins refusing to have sex with Rance, sortieing her together with Rick Addison in battle enough times will cause a scene to trigger between the two. An additional scene where Leila tries and fails to confess to Rick will trigger if the two continue to be deployed together in battle after seeing the first one. Following these two events, a scene will randomly occur at the beginning of a turn wherein Rick confesses to and is rejected by Maris Amaryllis. After this, an additional scene between Rick and Leila will occur after deploying them in battle together which will cause them to begin dating.
After the above happens, Leila can be called from the harem screen one additional time to receive a different CG from usual. Following this, Leila will refuse to have any kind of intercourse with Rance when called to his room. If Rick is killed after the two begin dating, it becomes possible to call Leila to the harem again, with the second CG permanently replacing the first.
Her Unit gets a "+1" bonus on offensive battles if she's deployed with Rick Addison.