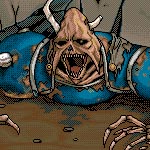 An Oni that became a Dark Lord during the Nighcisa Era. He competed with Noce in how many Toushin Cities they could crash, but was assassinated by him while fighting Toushin City Upsilon. During his rampage he severely damaged the Tousho Borg. His Apostle Atlanta, who has the Blood Soul of Lexington, attempted to use Rance to bring Lexington back. 
Not much is known about Lexington other than that he was a spear user, and a type that relies on his brute strength. He was strong enough to be described a rival for Noce, suggesting that he was a fearsome foe, and he crushed Tousho and Toushin during the Dark Lord War.
Lexington is confirmed to appear in Rance X as a female and a member of the Kayblis Faction.
Ad blocker interference detected!
Wikia is a free-to-use site that makes money from advertising. We have a modified experience for viewers using ad blockers

Wikia is not accessible if you've made further modifications. Remove the custom ad blocker rule(s) and the page will load as expected.