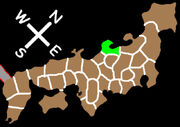 MAZO is a province in JAPAN held by the Uesugi House.
It is adjacent to Texas, Yamatai, Shinano, and Sado.
Appears in: Sengoku Rance
MAZO is next to Sado, the other territory held by the Uesugi house. The two territories' names combine into "Sadomazo" (サドマゾ), which is the Japanese semi-abbreviation for S&M (Sadism & Masochism).
Ad blocker interference detected!
Wikia is a free-to-use site that makes money from advertising. We have a modified experience for viewers using ad blockers

Wikia is not accessible if you've made further modifications. Remove the custom ad blocker rule(s) and the page will load as expected.