"Eri of the Chain never turns around!"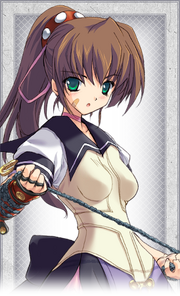 A student at Seijou School, calls herself "Eri of the Chain". Along with her classmates Shouko and Saki, she's formed the Miyazato Army. They defy  authority but are really good girls all round.
Battle quote - "Hey hey hey! Eri of the Chain will kick you you know!"
In Big Bang Beat, Erika and her gang only showed at Heita's stage (At day)
Surprisingly, Erika didn't get the chance to become a Big Bang Beat playable character
which she's supposed to be because of BBA popularity voting showed Erika is more popular over Kendo & Kyuudo Nakanishi
Erika becomes playable in Big Bang Beat - Revolve, with Shouko and Saki as her strikers. They appear as the Miyazato Gundan on the character select screen.
Ad blocker interference detected!
Wikia is a free-to-use site that makes money from advertising. We have a modified experience for viewers using ad blockers

Wikia is not accessible if you've made further modifications. Remove the custom ad blocker rule(s) and the page will load as expected.