Nighcisa
Talk

0
1,235pages on
this wiki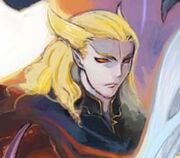 The fourth
Demon King
.
He was chosen by Planner because Ssulal died early.

He was a heinous, brutal character that had no feeling by malice for mankind.
Appearance
Edit
Nighcisa has gold curled hair, deep red eyes, pasty white skin, and wore aristocratic clothing.

Nighcisa was much more attuned with his bloodlust than any other Demon King, frequently appearing in random villages across the continent to consume the blood of the innocent.
Abilities
Edit
The most vampiric Demon King, Nighcisa was a savage and uncaring monster that saw humans as toys for him to play with, he cared not for them or his own kind. It was for that reason that Dark Lords like Xavier looked up to him.

Attuned with his vampiric bloodlust, he would feed on the blood of humans indiscriminately.
Personal History
Edit
NC0001 - Nighcisa is made into the Demon King by Planner.

NC0321 - Orochi causes the great eastern earthquake, JAPAN is seperated from the continent.

NC0440 - 2nd Class God Amaterasu joins JAPAN to the continent with the Tenma Bridge.

NC068? - Ishimaru Fujiwara of JAPAN conquers half of the continent in less than 5 years.

NC0705 - Nighcisa orders Dark Lord Xavier to kill Ishimaru Fujiwara.

NC0706 - Xavier succeeds in killing the Emperor, but is sealed away by the Devil Geppei.

NC0901 - The eastern Obiros Empire goes to war with Nighcisa, who retaliates by beginning a mass genocide of humanity.

NC09?? - 50% of Humanity is wiped out, the Heroic Sword Escude gains the ability to damage the Demon King. The Hero challenges Nighcisa and ultimately dies, but not before damaging Nighcisa so severely that his lifespan is reduced.

NC0960 - While looking for an heir, he comes across a girl named Gele, a girl who had just been savagely beaten and raped by those envious of her good nature. Feeling compassion and pity for the first time, Nighcisa gives her his blood, tells her of the Hero System and goes on to live the last 20 years of his life in a peaceful village.