Kouhime
Talk

2
1,235pages on
this wiki
Princess Kou is the renowned beauty of the Oda House. Her beauty is famous throughout the world.
Appears in: Kichikuou Rance, Sengoku Rance. (She has a major character design change between Kichikuou Rance and Sengoku Rance.)
Mentioned in: Rance 6.
Age: 22
Height: 157cm
Weight: 40kg
Level: 1/46
Skills: none
In Kichikuou Rance, one of her hand is black, which she hides with a glove. This is supposedly due to her father, Oda Nobunaga, being a Dark Lord. She is saddened by her father's cruelty, and wish to somehow lessen the sins of her father through her own actions.
Ever since she was little, she has been having dreams with a great white whale in it. When Rance sleeps with her, he sees the same dreams too.
She has long green hair and wears a kimono.
Much of her character design/settings got picked up by Kurohime in Sengoku Rance.
Age: approximately 12
Height: approximately 130 cm
In Sengoku Rance, she is the younger sister of Oda Nobunaga. She takes care of many of the state affairs, which her brother doesn't care much for.
She appears in this game as a playable guard character.
Kouhime's introduction in Rance Quest as available on Rance Quest Official Website: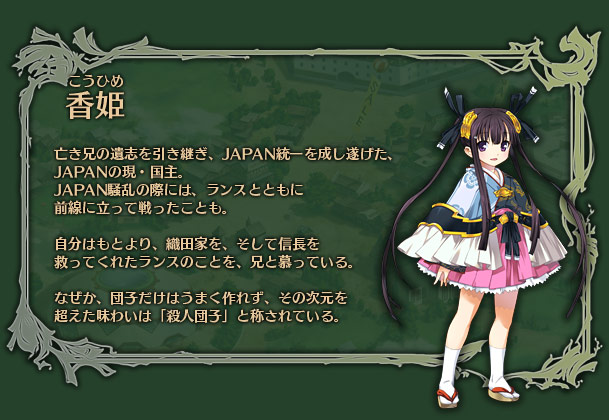 Kou is probably a reference to Oichi/Ichi (お市) who is also the younger sister of infamous Oda Nobunaga (a hint about her affection for Shibata Katsuie). See wikipedia:Oichi.
Kou is also probably a reference to Gou/Ogou (江/お江), the 3rd daughter of Oichi. "Kou" is another pronunciation of the kanji "江".