Kurohime
Talk

0
1,233pages on
this wiki
Princess Kuro
黒姫
kurohime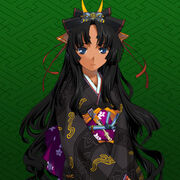 Princess Kuro is a long-time guest of the Shimazu House. In fact, she has been there for many generations, never aging. Rumor has it that her everlasting youth is the result of a curse.
She is greatly admired by the Shimazu brothers, who would do anything for her. However, her feelings for them is more maternal than romantic.
In reality, she is the daughter of the Dark Lord Xavier, which is why she never ages. During one of Xavier´s revivals, he raped many women, and Kuro´s mother was the only one to survive both the rape and the pregnancy, although it is implied she did not survive childbirth.
She has the ability to break any seals, but because she has a gentle heart and dislikes her father's cruelty, never attempted to free him during the past five hundred years.