WORK IN PROGRESS
The stats on the allocation menu are in the following order:
Hit Points
Evasion
Parry/Counter
Magical Defense
Tenacity (Percentage to resist death)
Attack Damage/Magic Damage
Critical Score
Speed
All Stats are increased by a 1:1 ratio (1 Point = 1/1% up)
Costs are not linear and vary from character to character. See Parameters & Formulae for more information.
Upgrading Bonuses
Edit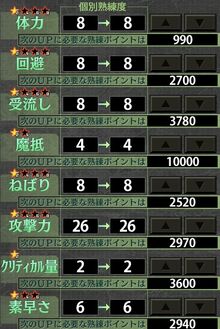 Black Star = Incomplete Star
Yellow Star = Bonus
Each time you raise one stat pass every even number (2, 4, 6, 8), up to eight, you will get a black empty star on the skill.
You can get up to 4 stars.
In order to gain one yellow star, every stat on a character must have a black star (2 points in each stat). In order to get a second yellow star every stat on a character must have 4 points in them. ect.
Putting 8 points in all of the stats on a character will give them the full bonus of all 4 yellow stars.
Bonus Yellow Stars
Edit
| Character Name | 1★ | 2★ | 3★ | 4★ |
| --- | --- | --- | --- | --- |
| Rance | Special move gauge usage reduced to 18 | Special move gauge usage reduced to 16 | Special move gauge usage reduced to 14 | Special move gauge usage reduced to 12 |
| Kanami Kentou | +1 Special Move | +1 Special Move | +1 Special Move | +1 Special Move |
| Shizuka Masou | +5% chances of increased area of effect for spells | +5% chances of increased area of effect for spells | +5% chances of increased area of effect for spells | +5% chances of increased area of effect for spells |
| Maria Custard | 2 Damages inflicted to surrounding ennemies = 60% | 2 Damages inflicted to surrounding ennemies = 70% | 2 Damages inflicted to surrounding ennemies = 80% | 2 Damages inflicted to surrounding ennemies = 90% |
| Patton Misnarge | +5% chances of Counter-attack | +5% chances of Counter-attack | +5% chances of Counter-attack | +5% chances of Counter-attack |
| Hubert Lipton | +5% chances of Strong Attack | +5% chances of Strong Attack | +5% chances of Strong Attack | +5% chances of Strong Attack |
| Russian Kalette | +1 Special Move | +1 Special Move | +1 Special Move | +1 Special Move |
| Maitrea Meishian | +5% chances of increased area of effect for spells | +5% chances of increased area of effect for spells | +5% chances of increased area of effect for spells | +5% chances of increased area of effect for spells |
| Rick Addison | Cost of Special Moves Reduced to 18 | Cost of Special Moves Reduced to 16 | Cost of Special Moves Reduced to 14 | Cost of Special Moves Reduced to 12 |
| Tillday Shape | +3% chance of Double-move | +3% chance of Double-move | +3% chance of Double-move | +3% chance of Double-move |
| Crook Mofus | +2% Automatic Recovery (at the end of each turn) | +2% Automatic Recovery (at the end of each turn) | +2% Automatic Recovery (at the end of each turn) | +2% Automatic Recovery (at the end of each turn) |
| Alkanese Rize | +1 Special Move | +1 Special Move | +1 Special Move | +1 Special Move |
| Pitten Ciao | +5% Chances to Protect a Frendly Adjacent unit | +5% Chances to Protect a Frendly Adjacent unit | +5% Chances to Protect a Frendly Adjacent unit | +5% Chances to Protect a Frendly Adjacent unit |
| Senhime | +1 Special Move | +1 Special Move | +1 Special Move | +1 Special Move |
| Milacle Tou | +5% chances of increased area of effect for spells | +5% chances of increased area of effect for spells | +5% chances of increased area of effect for spells | +5% chances of increased area of effect for spells |
| Sanada Tourin | +1% Chance of Covering Fire | +1% Chance of Covering Fire | +1% Chance of Covering Fire | +1% Chance of Covering Fire |
| Pigu Geliciam | Penality Reduced to 45% for the clones | Penality Reduced to 40% for the clones | Penality Reduced to 35% for the clones | Penality Reduced to 30% for the clones |
| Freya Idun | Chances of Instant-kill are now 4% | Chances of Instant-kill are now 5% | Chances of Instant-kill are now 6% | Chances of Instant-kill are now 7% |
| Rolex Gadras | 100% of Attack is now used in Special Moves | 110% of Attack is now used in Special Moves | 120% of Attack is now used in Special Moves | 130% of Attack is now used in Special Moves |
| Oluole the Third | Number of Targets of Special move is now 5 | Number of Targets of Special move is now 6 | Number of Targets of Special move is now 7 | Number of Targets of Special move is now 8 |
| Hanty Kalar | +5% chances of increased area of effect for spells | +5% chances of increased area of effect for spells | +5% chances of increased area of effect for spells | +5% chances of increased area of effect for spells |
| Amitos Armitage (NG+ and ver2.0) | +200% of her special move | +250% of her special move | +300% of her special move | +350% of her special move |
| (NG+ and ver2.0) | +1 Special Move | +1 Special Move | +1 Special Move | +1 Special Move |
Special Move
Edit
Name
Amount
Cost
Activation range
Effect
Animation
Rance
1
0★: 20
1
Deal 150% damage inside the Area of Damage
4★: 12
Kanami Kentou
0★: 1
10
4
Deal 50% damage inside the Area of Damage
4★: 5
Shizuka Masou
1
20
1
Deal 150% damage in the center of the beam, 100% on borders
Maria Custard
1
16
6
Deal 150% damage inside the Area of Damage
Patton Misnarge
1
3
5
Deal 100% damage to an enemy. Provoke all enemies
Hubert Lipton
2
10
1
Deal 150% damage inside the Area of Damage
Russian Kalette
0★: 4
0
6
Heal 80% Hitpoints of an ally
4★: 8
Maitrea Meishian
1
20
5
Deal 150% damage inside the Area of Damage
Rick Addison
1
0★: 20
1
Deal 150% damage inside the Area of Damage
4★: 12
Tillday Shape
1
20
1
Attack 2 to 5 time an enemy
Crook Mofus
3
0
0
Heal 40% Hitpoints all allies in the Area of Effect
Alkanese Rize
1
10
1
Deal 150% damage inside the Area of Damage and randomly move damaged enemies somewhere on the map
Pitten Ciao
1
10
1
Deal 100% damage inside the Area of Damage. Provoke all enemies
Senhime
0★: 2
15
1
Deal 150% damage inside the Area of Damage
4★:6
Milacle Tou
1
20
5
Deal 150% damage inside the Area of Damage
Sanada Tourin
1
5
0
Max the Action bar
Pigu Geliciam
3
0
0
0★: Create a clone of each Pigu with 50% of her Hitpoints
4★: Create a clone of each Pigu with 30% of her Hitpoints
Freya Idun
1
10
1
Deal 100% damage inside the Area of Damage and damaged enemies can't take any action this turn.
Rolex Gadras
1
20
1
0★: Deal 90% damage inside the Area of Damage
4★: Deal 130% damage inside the Area of Damage
Oluole the Third
1
20
5
0★: Deal 150% damage up to 4 targets in range
4★: Deal 150% damage up to 8 targets in range
Hanty Kalar
2
20
1
Deal 100% damage inside the Area of Damage
Amitos Armitage
2
8
1
0★: Deal 150% damage to an enemy
4★: Deal 350% damage to an enemy
Elena Flower
0★: 1
5
1
Deal 150% damage to an enemy and randomly move the enemy somewhere on the map
4★:5