Skill Level
Talk

0
1,231pages on
this wiki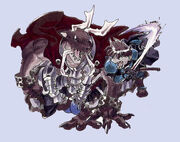 A Skill Level determines your potential proficiency in a certain field. It is broken into three ranks, Level 1 (Regular Talent), Level 2 (Adept) and Level 3 (Legendary).
Skills cover almost every activity, from swordplay to piano playing. Skills are set at birth, and cannot be naturally raised or lowered. The majority of mankind remain at Skill Level 1 for the majority of their abilities.
Official Accounts
Edit
The description of Skill Levels have varied over the years, so there are 4 descriptions with slight variations amongst them...

For the sake of simplicity, we'll use a key here.
A = Original Statement from Alicesoft on skills
B = Hanihon Magazine
C = "Comeplete Rance Guidebook" (2004)
D = Alicesoft Blog
T = Word of TADA
Skill Level

Various Official Definitions

0

D: Virtually no skill, no room for talent growth, if you're limited to casual use of a skill, it's a level 0.

1

A: You can use the skill decently
B: Your skill can be impressive, but you'll never be a master.
C: You can use your skill proficiently.
You can use your ability up to a professional
T: You can almost master it, definitely proficient.

2

A: You have briliant potential, can use a special ability.
B: Exceptional potential.
C: You can use a special ability, a true master of your field.
D: You can use your own special power, a genius of your field.

3

A: A legend of your time, with access to secret powers.
B: You're a rare gem, a true legend.
C: Legendary skill, unparalleled. You will be in history books.
D: You will go down in history, you're godlike.
Special Abilities
Edit
At Skill Level 2, a person can use an ability unique to them. This ability can either be inherited or invented.
An invented ability is something the user came up with themselves, Rance Attack and Thunder God are examples of this.

An inherited ability is a unique ability you learn upon wielding a certain item, Red Commander Rick of Leazas uses the Byroad Sword, the Byroad contains the inherited ability "By-La-Way", which only works when wielding Byroad and only works for the Red Commander alive at the time, having been passed down through generations of them.
List of Special Abilities
Edit
Rance Attack
Kichiku Attack