Ssulal
Talk

0
1,234pages on
this wiki
The first human
Demon King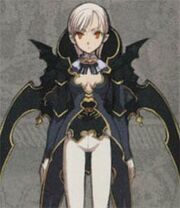 , and the third overall. She was chosen by
Planner
as
Avel
was sealed.
She died after 500 years.
Appearance
Edit
Visually, she was not too different to a normal human being, she had larger canine teeth than other humans, but this is down to the inherent vampiric nature of the Demon King.
Abilities
Edit
Ssulal was a genius, the most intelligent Demon King to ever live, but she was not a strong fighter at all.

After researching the Gods, she found a way to meet with Planner. Planner offered her a wish, and she wished for a way to make the Demon King and the Dark Lords impervious to attacks.
Planner granted her wish, and gave her the Invincibility Field. The trade-off being that now Demon Kings have a fixed ruling timespan of 1000 years.
Personal History
Edit
AV0721 - Roven-Pan completes his next Protagonist Race, humanity.

SS0001 - Ssulal is made into the Demon King by Planner.

SS0420 - Kesselrink Kalar is trasformed into a Dark Lord, becoming a man in the process. Ssulal asks that he come her knight, Kesselrink loyally obliges.

SS0??? - The intelligent, but frail, Ssulal seeks to make her body invulnerable to attack, she seeks the assistance of Planner, who grants her the Invincibility Field in exchange for her eternal life.

SS0500 - Though she was meant to live for 1000 years, she dies after 500 as she's the prototype of the newer system. Her body is swallowed up by a pool of blood and she's never seen again.