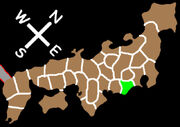 Tokaido is one of the provinces of JAPAN. It is held by the Imagawa House.
Tokaido is bordered by Mikawa, Shinano, Shell, and Edo.
The Tokaido in actual warring states Japan was a region that encompasses many provinces. The Tokaido in Sengoku Rance's JAPAN roughly covers the equivalent of Suruga Province (駿河国) and the eastern half of Totomi Province (遠江国).
Imagawa Yoshimoto was called "海道一の弓取り"(Kaidouichi no yumitori = the strongest general in the Kaidou(=Tokaido)).
Ad blocker interference detected!
Wikia is a free-to-use site that makes money from advertising. We have a modified experience for viewers using ad blockers

Wikia is not accessible if you've made further modifications. Remove the custom ad blocker rule(s) and the page will load as expected.