The Continent
Talk

6
1,231pages on
this wiki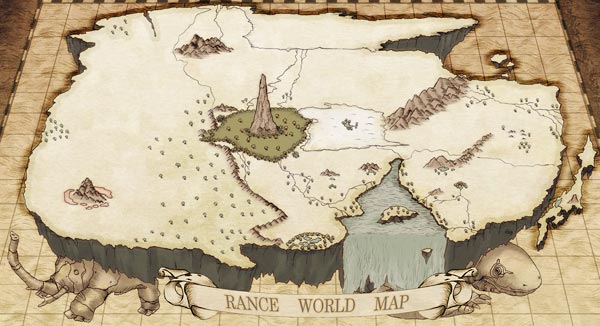 Ludo-Rathowm's world consists of a main continent and some islands floating in the middle of the universe, supported on the back of four Holy Beasts (JAPAN was supported by a fifth Holy Beast from inside). Whenever any of the Holy Beasts move, it causes earthquakes. In the picture above, two of the Holy Beasts are visible (an elephant and a turtle).
It's a geocentric world and has no oceans (only streams, rivers and a very large lake).
There are 365 days in a year, and 24 hours in a day.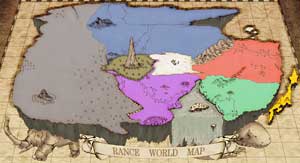 Currently the world is roughly divided into:
There were other nations in the past, but they have since died out.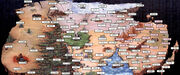 Money in the world of Rance is called "G" (which is simply "Gold"). One "G" is approximately 100 yen, and thus is now slightly more than one USD.
The rank level is an individual's innate adaptness at a certain skill.
Level 1 - Ordinary Talent

Normal skill expertise of a given skill. Very effective at using the skill, and others will compliment on it.

Level 2 - Genius

Mastery in skill, astonished by all. Can use unique special skill/move.
Here's the list of people who can use special moves (Updating in progress)

Level 3 - Godly

Legendary masters. Absolute mastery in the skill, and considered gods of the field.